Older teens love it to have different types of playing gadgets to pass their leisure time. As days go ATV has become a very popular gadget among older teens.
Previously only grown people would ride quads. But now the story is different, and parents are buying ATVs for their sons on different occasions.
All the quads in the market won't suit the kids and teens. A low powered engine with necessary safety features will suit those most.
In our today's X Pro 110cc ATV review, we will go through a detailed discussion about an ATV made targeting the teens and youth who are on beginner level in riding an ATV. So if you are on the hunt for a four-wheeler for your son, then stay connected till the end.
What is X Pro 110CC ATV For?
Not all the ATVs suit people of all ages. Manufacturers build different quads aiming at the different ages of people.
110cc ATVs aren't that powerful, and the speed is mediocre. ATVs with 110cc engine are a good match for the youths who are on a beginner level and older teens who have some previous experience of riding a four-wheeler.
People who are experts in riding an ATV and love to ride frequently won't just get fun riding ATV with 110ccc engine power.
X Pro 110CC ATV Sizing Chart
Front Tires: 14.5X7-6
Rear Tires: 14.5X7-6
Gross Weight (lbs.): 187
Net Weight (lbs.): 165
Overall Length: 55.5″
Overall Width: 29.1″
Overall Height: 34.6″
Packing Size: 44.1 x 25.9 x 25.2″
Wheelbase: 33.8″
Seat Height: 27.2″
Fuel Capacity: 1.5L
Key Features
110cc four-stroke engine.
2.6'' ground clearance.
Remote control for up to 20m.
Single cylinder.
Automatic transmission.
Hydraulic shock absorber suspension.
Pros
Speed governor functionality.

Reasonable price.

Decent build quality.

Electric start system.

CDI ignition.

Engine kill switch.
Cons
Absence of reverse gear.

Poor fueling system.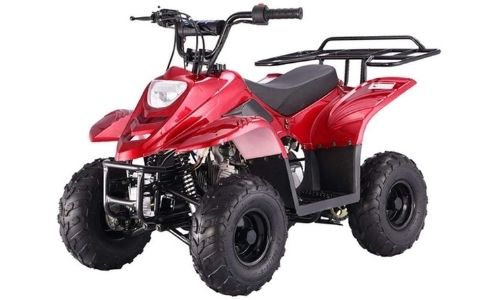 A Detailed Discussion on X Pro 110CC ATV Review
X Pro is a famous Chinese brand that produces different categories of four-wheelers. They have options for people of every age category, from kids to fully grown men. The one we are talking about is built targeting older teens and youth.
2.6'' ground clearance isn't something special. It would be great if the ground clearance was a bit higher.
The ATV comes with CDI ignition which isn't present in some pricy ATVs. So it's great to have this functionality in an ATV of this price category.
The fuel capacity is 15 liter. As the fuel capacity is low so you can't go long distances with the ATV with single fuel. You have to carry extra fuel with you if you are on a long journey.
The wheelbase of the quad is 33.8″ which isn't that bad at all. The battery is 12V/4Ah which is perfect for any ATVs of this range.
All of the above features, there are some key features I haven't discussed yet. Now let's take a closer look at the major features of the four-wheeler.
Engine Capability
The ATV has a four-stroke 110cc engine which isn't anything special. It can go around 25 miles per hour. However, the speed of the quad will vary according to the weight of the person who is riding and the types of road.
The speed is low but still, it should satisfy most of the users as teens won't need anything special when it comes to speed.
One good thing about the quad is that the ATV's engine is that it will run great despite going for a long-distance and won't throttle. The user won't need to pay extra attention to the repair and maintenance of the ATV.
Remote Control
The ATV can be controlled through a remote from up to 20 meters distance. When your kid is riding the quad, you may want to pay attention to him so that he doesn't fall into an accident.
Remote control functionality helps you to control the ATV from a long distance. So when you think that you need to stop the quad from a distance while your son is riding, you can easily turn off the vehicle.
Speed Governor
As a responsible parent, it's obvious that you will want your kid to be safe when riding any vehicle. Kids and teens are usually fond of having fun and they might increase the speed of the ATV to an extent that may lead them to accidents.
This particular ATV model from X Pro enables you to set the speed as low as 5 miles per hour. So you won't need to be any tensed about any speed-related accidents when your son is riding the four-wheeler.
Riding Accessories
When riding you need some important accessories to make your experience joyful and safe. Some of the most common accessories an ATV rider needs are handgrips, goggles, and gloves.
Handgrip helps you to hold the handle of the quads perfectly while riding. It will help your hands to slip away. Goggles will save your eyes from dirt, dust, and sands when you are riding the four-wheeler. And gloves will save your pair of hands from any injuries.
And thankfully, all these important accessories come with the package as a gift. So you won't need to cost any sing penny on these accessories.
Turning Radius
The quad has the least turning radius of 2.25 meters. This is an amazing 30% less than the competitors in the market. It's very flexible to turn and made to be safe and easy to operate for the kids.
Other Important Features
The quad has a kill switch feature which is a great safety feature for any ATV, especially if it's build targeting inexperienced riders and kids.
The ATV has lights on both front and tail to make your riding easy and convenient on the dark and foggy paths.
FAQs
How fast does a 110cc ATV go?
An 110cc ATV can go around 35-40 miles per hour.
What age is a 110cc ATV for?
110cc ATVs are suitable for older teens ages 16 to 19 and beginner-level youths.
How fast is 110cc in KM?
An 110cc speed falls between something around 55 to 65 KM per hour.
What is the most reliable ATV brand?
In the case of the Chinese band, I think Tao Tao is the most reliable brand.
Why are used ATVs so expensive?
Quality ATVs cost a huge amount of bucks when purchasing a new one that's why the users demand a high price despite using it for a good period of time.
Final Thoughts…
My final thought about this ATV model from X Pro is that the ATV I still a good buy despite having some shortcomings. Yes, the build quality isn't amazing and users complained about the fuel and gasoline.
But you need to think that the price tag is much lower for this ATV than many other top brands in the market. And the customer service is just amazing. And the seller provides enough safety features and some gifts for the buyer.
And that's all for our today's detailed X Pro 110cc ATV review. It will be my pleasure if the review helps you with your ATV purchase decision. Thank you for sticking to the end.